In the Garden | Upcoming Events | Books By Linda | Recipes
Bark, Compost & Fill Dirt | Garden Tips | About Linda | Contact
Give us a call all year to have bulk products loaded or delivered.
ARCHIVE
Garden Updates 2008
2008
11/29/08 - Live and Potted Christmas Trees
11/04/08 - Winter Lawn Damage
10/23/08 - Warm Weather and Plants
9/24/08 - Ripening Green Tomatoes
9/11/08 - Bulb Planting
9/06/08 - Beautiful Weather for Planting
9/02/08 - Fall Fertilizing
8/04/08 - Willow Furniture Class
7/06/08 - Have You Seen This Plant in Your Yard?
7/05/08 - Willow Furniture Class
6/22/08 - Spider Mites in Your Garden
6/10/08 - Lawn Problem?
5/27/08 - Reading Your Grass Seed Labels
5/19/08 - Rhubard - Bolting or Flowering
4/28/08 - Is It Spring Yet?
4/23/08 - Lawn Fertilizers
4/12/08 - Spring Yard Chores
4/09/08 - Bare Root Plants
3/25/08 - Snow Mold in the Lawn
3/23/08 - Time to Clean Bird Feeders
11/29/08 - Live and Potted Christmas Trees
We have some really nice live potted Christmas trees for sale. We will be open Saturday, November 29 and Saturday December 6 & 13. Prices range from $95 for 4' Colorado Blue Spruce to some tall 8' Douglas Fir for $175.00.
We also have several heights of Norway Spruce,ranging in price from $125 to $150.
Supplies are limited. This is our first year for selling live Christmas trees so we did not order a great amount.
Don't forget that on Saturday, December 6 we will have craft vendors set up in the Greenhouses AND Grub Masters will be cooking up chili, cornbread and cobblers. Price is $7.00 per person with coffee and hot cider extra. Come on out and enjoy our warming fire while you enjoy a bowl of our famous chili.
Some gift ideas: A copy of my newly revised Cold Climate Gardening Book or how about some Dutch oven cooking supplies !! Gift certificates are always a good idea for the gardener in your life.
We need to start thinking about how to minimize winter damage to our lawns. Damage can be more severe if turf receives concentrated foot traffic while frozen. Walking on frozen grass breaks off at the shank causing spring dead spots. Try to use a traffic pattern getting to your garbage cans, wood pile or to your vehicle that does not require a walk across the lawn. I know this will take the fun out of a winter snow storm, but even letting the kids trample the frozen ground by building a snow man can cause the ground to become compacted and then you will see damage in the spring. If playing in the snow on the frozen lawn is going to happen, try to steer the kids away from the North side of the house where the snow lays the longest. You will find major Snow Mold damage come spring in the areas that have been compacted. Be sure to remove leaves from the lawn as they will also smother the turf and foster snow mold growth.
Coming Events:
We will be cooking up a Thanksgiving Feast here in the nursery in our Dutch ovens on Thanksgiving Day, November 27th. Tickets are $25 per person. Call me or e-mail me to reserve your spot. Visa and mastercard accepted.

Live-potted Christmas Trees:
We will be selling live-potted 3 to 7 ft blue spruce and fir trees on November 29, December 6 and December 13 open 10 to 4 each of those days. On December 6th we will have lots of craft vendors set up in the green houses, Dutch oven chili, cornbread and cobblers will be offered for sale. Want a fresh fir wreath for your home or office? We will have some beauties for sale at $25 each.
10/23/08 - Warm Weather and Plants
What beautiful weather we are having. Have you gotten those bulbs planted? If not take the time to plant some daffodils, tulips, grape hyacinths, crocus and lily of the valley. When spring comes you will be glad you did.
By now most of you have turned off your irrigation systems due to the freezing at night. With this warm weather I strongly recommend that you at least get out a hose and make sure your flower beds, shrubs and trees get a good drink. You stand a better chance of plant survival when they go into the winter damp as opposed to dry.
If you are in need of bark or compost please give us a call. Even though the nursery is closed we can load your vehicle or deliver these products.

On another note: Grub Masters Catering is now selling tickets to our Thanksgiving Day Feast. We will be serving turkey, ham, elk roast and lots more is on the menu. Tickets are $25 per person. Dinner is set for 2 pm on Thursday, November 27 in the "Livery" at L & S Gardens. We accept cash, check visa and mastercard. Give me a call if you are interested in joining us. And remember we cook everything on site outdoors in our Dutch Ovens !
9/24/08 - Ripening Green Tomatoes
Heavy frost can be detrimental to your garden. Can you still salvage those green tomatoes? If the tomatoes are still firm, lay them in a single layer inside a brown paper bag. Place a banana, skin on, inside the bag. The gases from the banana will help to ripen the tomatoes in about 7 days.
Our sale continues with 60% off marked prices on all plants, trees and shrubs. We have been hit by deer and frost in our nursery, just as you have in your gardens, so things may not look perfect, but will look wonderful next spring in your landscape. Yes, it is still a good time to plant.
Multi packages of fall bulbs are showing up in stores throughout central Oregon. It is too early to be planting fall bulbs, but a good time to purchase. You want to wait to plant until the weather cools down, usually mid October. Don't let price interfere with quality. You want a #1 grade firm bulb. Small bulbs produce small plants and flowers. Lightly squeeze the bulbs to make sure they are not soft. Read the labels. I prefer to plant tulip bulbs that say "late blooming". That means instead of coming up when the snow has barely melted, they will come up and bloom in med May, depending on the length of our winter. There are some gorgeous bulbs available and well worth the money spent. It is VERY important to amend your planting bed with a good garden compost and at the time of planting use bone meal or a bulb food. This makes for better plants in the spring. If our winter is cold and dry, you will want to water your bulb planted area early in the spring. The years we have gotten spring rains are the years that my bulbs have looked the best. Right now I'm dividing out bulb plantings from years past that have gotten too big. My grape hyacinth really needed dividing. As you are cutting back perennials and preparing your gardens for winter you will more than likely unearth some of your bulbs. Just replant them or divide large clusters.
Our fall sale continues with all remaining plants, trees and shrubs 50% off marked prices (Note our fall hours).
9/6/08 - Beautiful Weather for Planting
n talking to many of my customers, they have asked "is it too late to plant"? Absolutely not. This is a perfect time of year and weather to be planting. Anything that is in one of the black pots will be much better off in the ground.
It is still too early to be transplanting trees and shrubs. You want to wait until they go dormant before you dig them up.
Yep..it's that time of year. Time to start thinking about getting your fall fertilizer on your lawns. Mid to late September is a good time to apply a timed released 21-7-14. One 40 pound bag will cover approximately 3200 sq. ft.
Are you a seed saver? Before you cut back those perennials and annuals you may want to cut off the dead flower heads and dry them so that the seeds fall off. I use a brown paper lunch bag and separate the different varieties. Give the bag a shake every few days so that the flower heads don't mold. once the heads are dry you can shake out the seeds. Keep the seeds in a baggie in the vegetable drawer of your refrigerator and then plant in the spring or share your seeds with a friend.

Our sale will continue through September. Prices will be marked down weekly. We have a great selection of plants, trees and shrubs. Now is a great time to plant and still get a good root before winter.
8/4/08 - Willow Furniture Class
Here is your chance to learn to make the willow furniture you have wanted for your home or patio.
You have your choice of making one of six different pieces. Chairs, tables, plant stands, etc.
You will need to be signed up, your project picked out and the class paid for by August 18th. In this class you will complete a full piece of furniture and all you have to do is bring a hammer and get ready to build!!
Cost of the class is $115.00 and I will prepare lunch for you.
Since willows are readily available in our area, materials are not hard to come by.
Come into the nursery to see the pieces you can choose from to make.
7/6/08 - Have You Seen This Plant in Your Yard?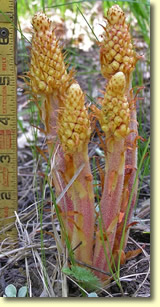 When I get a question asked in the nursery three or four times in one week, then I know many more of you are asking the same question. What is that ugly plant coming up in my wooded areas, or even sometimes right in the lawn. Known as Pine Drop or Pterospora andromedea this plant is valued by florists for its unusual stems.
Pine Drop is more prevalent after a very wet period such as this past winter. Having no chlorophyll, Pine Drop is a parasite that lives on the roots of conifers in dry forested areas.
The young Pine Drops, growing in a Ponderosa or Jackpine forest, have probably been showing above the forest floor for no more than a week. They will continue their rapid growth and, depending on the moisture available, will attain a height of one to three feet.
Pine Drops wither brown and remain a strange sight until crushed and dissolved by snow, or they may stand, as in this photograph, into the next growing season.
7/5/08 - Willow Furniture Class
Have you dreamed of building your own willow furniture but just didn't know where to begin?
Can you just see pieces of willow furniture on your patio or planter boxes made from willow?
Our Willow furniture class is set for Saturday, July 26 from 10 to 5. All you have to bring is a hammer.
You will go home with a completed piece of furniture that you have built yourself !!
Come into the store to see some of the pieces that you can choose from to build, chair, table, planters, stands, trellis, and lots more.
Pre-registration is necessary. Cost is $115.00 per student, which also includes lunch. We need at least 6 students to make this class a go, since the teacher is coming from the valley.
Tell a friend and sign up early !!
6/22/08 - Spider Mites in Your Garden
Are you seeing leaves curling on your trees and shrubs? Leaves shriveling and drying? It may be a sign that you have insects invading your garden. Take a good look at all of your vegetation. Mites are not usually seen by the eye without a magnifying glass. You may see webbing around the foliage and that would be a sign of mites.
If you have leaves that look like they are being eaten and have a bit of a shiny residue on them, then this could be a sign of aphids. Aphids will also draw ants that like the sweet residue left from the aphids.
Spider mites will leave eggs in between branches on shrubs and trees and in dead leaves under the trees. A dormant oil should have been applied in the spring. Now is the time to be applying a product that says on the label that it will kill MITES. Not all insect sprays are suitable for mites so be sure to read your labels. You will have do do a spraying now and another in a couple of weeks. Mites and ruin a whole garden if not kept under control.
We see more mites on this side of the mountains because of our dry conditions. This is why I recommend that when you water, be sure to wash down your trees and shrubs (where possible) with a overhead watering. Get that strong spray of water into the inside of your evergreen shrubs and make that nice dry home they have established themselves in not so inviting.
Bayer has some very good products on the market that are very good for insects, mites and fungus all in one.
There are also some good organic products such as Neem and products by Greenlight.
If you don't know what you have eating your gardens, bring me in some leaves (in a plastic baggie) and I will take a look and see what is going on.
If your lawn hasn't been mowed in the past week, you may notice that from a distance it has a brown haze. Or if you look at it closely you might think some type of alien grass has invaded your lawn.
I have had lots of phone calls this week and some of you have even brought, what you might think is a problem, into the nursery for identification.
What has happened to many lawns over the past few weeks is that it is actually going to seed. We had some very cold temperatures and then the temperature jumped to 90 degrees for a few days (remember that?) So the lawn did what is called bolting, it threw off seed heads, just like spinach or rhubarb will do when it goes from one extreme temperature to another.
Mow the lawn and you will be fine. If you fertilized early in the spring you might want to apply another application of fertilizer.
Now is a great time to re-seed any of those bare spots in the lawn. I recommend that you use a seed with 1/3 fescue, 1/3 turf type rye and 1/3 Kentucky blue grass. Make sure that what you purchase is all PERENNIAL seed. Which means it is seed that will come back year after year.
5/27/08 - Reading Your Grass Seed Labels
have said it before and now I'm going to say it one more time "Read the labels on the products you are buying"!!
It is time to plant those new lawns or to reseed an old one. Ground temperatures are looking good and the weather is perfect (well, maybe a little more sunshine would be good) but other than that it is not too hot and not too cold.
Here is the problem...just because a store sells grass seed does NOT mean it is suitable for our area. You want the label to say that the package contains all PERENNIAL grass seed. I prefer 1/3 Kentucky Blue Grass, 1/3 Turf type Rye and 1/3 Fescue.
Many of the stores sell grass seed that contains ANNUAL seed. This type of seed will NOT come back after a winter such as the one we just had.
I had a gentleman in the store last week. He had seeded his lawn, it was coming up very nicely. He brought me in a sample of the newly planted lawn and wanted to know what happened. Some of his new grass had turned brown over night. Two days prior our temperatures had gone down to 18 degrees. I asked him what type of seed he had planted. He didn't know, he just got a bag at one of the local stores and planted it. I asked him to check the bag and see if it contained any annual seed. His comment was "now why would they sell annual seed in our area"? Good question, but that is why you should read the labels and know what you are buying. He came back into the store the following day shaking his head and said "I can't believe I did all that work to have the first frost kill most of it". His bag of seed said it was 38.75% annual seed.
READ YOUR LABELS !!!
5/19/08 - Rhubard - Bolting or Flowering
We humans can be so difficult to please. If plants flower when we want them to, we call it blooming. But if plants flowers when we don't want them to, we call it bolting. Flowering is an undesirable trait when growing rhubarb; therefore, bolting describes the event.

Gardeners frequently ask why their rhubarb is bolting. What is happening is that we went from a cold period when the plant started to emerge from the soil to temperatures over 90 degrees. This extreme temperature fluctuation causes the plant to put out a seed head.
This will mean that the stalks of your plant that you want to use for that Rhubarb bread or pie will be much smaller. Seed wastes the plant's resources, which could be better spent on producing edible stalks or storing carbohydrates to use for the coming season.
Plant maturity is also a factor, with more mature plants being more likely to bolt than youngsters. Dividing the crowns every 4-5 years should help rejuvenate the planting. Applying moderate amounts of fertilizer, either a balanced fertilizer, such as 10-10-10 or 12-12-12, or well-composted manure each spring should also discourage bolting.

NOTE: Rhubarb is a cool season perennial that can remain productive for 8-15 years, if given proper care. Plant stress, such as temperatures above 90 F, prolonged drought during hot weather, poor nutrition, etc., will all promote bolting.

So, if your rhubarb should happen to bolt, remove the flowering stalks, just as soon as they are visible, to which the plant will likely respond by sending up another. If you keep at it, soon the plant will return to the desired priority for foliage production. Go to the bottom of the stalk that is sending off the seed head and then twist and pull. You do not want to cut rhubarb.

Another question that sometimes comes up is whether the flowering makes the leaf stalks poisonous. The answer is no, the leaf stalks remain edible, regardless of whether flower stalks are present. However, the leafy blade portion is always poisonous due to a high level of oxalic acid.
We have some nice Rhubarb for sale if you want to get a plant started in your garden.
Here is a recipe that I just love to bake when my rhubarb is ready to harvest.

Rhubarb Bread
1 ½ cups brown sugar
¾ cup vegetable oil
1 egg
2 ½ cups all-purpose flour
1 cup buttermilk (or add 1 tablespoon of vinegar to fresh milk)
1 teaspoon salt
1 teaspoon baking soda
1 teaspoon ground cinnamon
1 teaspoon vanilla
2 ½ cups chopped rhubarb
½ cups walnuts or pecans (optional)
½ cup sugar
1 tablespoon butter
Preheat oven to 325º F. In a medium bowl, mix brown sugar, oil, and egg together, then add flour, milk, salt, baking soda, cinnamon, and vanilla. Fold in rhubarb (and nuts, if desired). Place in 2 greased 9 x 5" loaf pans. Combine sugar and butter and crumble over top of loaves. Bake for 1 hour.
Don't believe everything you read in the newspapers. Sunday's paper was full of ads for annual plants. It is way too early to be planting annuals (except pansies). Our cool evenings will kill the alyssum, petunias, snapdragons, etc. I don't recommend planting annuals until the first week of June.
If you have a greenhouse you can start your hanging baskets, but keep them inside at night or from what I'm seeing of the forecast, you may want to keep them inside during the day also (DON"T RUSH THE SEASON)!!! We do have a few petunias, etc. for this project.
We are now stocked up with onion sets, seed potatoes, hop cuttings and hundreds of seeds for your garden.
We have compost for your garden by the cubic yard or by the bag. Before you do any planting you want to amend your soil with a good garden compost.
Be aware of what you are buying, ask questions and don't plant too early.
The newspapers are full of special advertising for garden fertilizers and other garden related items.
I'm seeing numerous ads for weed and feeds. Have you read the label on the weed and feed? I have had three people in this week wanting a weed and feed for their lawn.
The label says it is to be applied and a lapse time of at least 48 hours without moisture. The weed part of the product is Trimec. It works by attaching to the leaf of the weed as it is applied. The chemical works its way down through the leaf to the root of the weed, where it will kill the weed. Problem is that we are having snow daily and if it doesn't snow we have a heavy frost. Both conditions are not suitable to applying the weed and feed (waste of your time and money).
I suggest you put a regular granular fertilizer on the lawn and wait until summer conditions are good for applying weed and feeds.

Our pansies are looking BEAUTIFUL !! They can be put right out in this snow, cold, windy, freezing weather and still look nice after they perk up from the night time elements. We have the toughest pansies in Central Oregon !!

I was getting a bit worried about all the shrubs and trees we have in the nursery. Was the freezing nights going to damage them? I did a tour of the nursery yesterday and it looks like everything is starting to put on buds. I did get a bit of damage on several varieties of trees that started to bud a few weeks ago when we got that nice weather (remember those few days?). I will keep a close eye on those and see if the buds don't try to come back on.

It looks like the tulips and daffodils are going to be a bit stunted in growth this year. Extreme cold weather will do that. Shorter plants with smaller blooms. Let's see what happens when it warms up. You will be fertilizing around all of your bulbs and perennials here shortly, plus trees and shrubs. If you have questions about the type of fertilizer to use, give me a call or come in.
A few nice days and everyone is wanting to garden. Here is a list of chores for you to start on. I realize that some of you still have snow, but there are some chores that can be done now.
1. Get out all of your garden tools and sharpen, clean and/or replace broken tools.
2. Rake the lawn. Remove pine needles and other items that have appeared from under the snow.
3. Run the lawn mower over the lawn to remove any loose grass and to pick up any needles that got left behind.
4. Time to fertilize the lawn.
5. Clean up the flower beds.
6. Fertilize all of your bulbs and perennials using a fertilizer with a high second number. This will promote blooming. Remember to use this fertilizer on your strawberry plants also for more berries. Lots of blooms equals lots of berries!
7. Fertilize trees and shrubs. A balanced fertilizer works well here. 10-10-10 or 12-12-12 or 16-16-16. You can also use timed released fertilizer stakes around all of your trees.
8. The majority of the yards are still too damp to thatch or aerate so let's wait another week or two to start these jobs, if your lawn needs it.
9. Plant a container of pansies to brighten your patio or entrance to your home. Pansies are cold hardy and will withstand our nightly frosts. Be sure you buy plants that have NOT been grown in a heated greenhouse. Our pansies are climatized and ready to be put out.
10. After all of your maintenance chores are completed, then take a look at what you would like to add to your gardens. It is still a bit early to do any major planting. Have a plan BEFORE you purchase.
We are still in our cool spring hours of Mon. - Sat. 10-4. Hopefully the weather will warm up next week so we can commence with regular hours.
We have finished our bare root potting. We have a few shrubs and trees that we did not have big enough pots for, so we are going to pass some terrific savings on to you.
Inventory in bare root, ready to go in the ground:
6 Canada Red Chokecherry trees - your cost $32 Potted cost - $49.99
4 Autumn Brilliance Serviceberry - your cost $12 Potted cost - $26.99
2 Donald Wyman Lilacs - your cost $20 Potted cost - $44.99
4 Miss Canada Lilacs - your cost $18 Potted cost - $39.99

On another note. Have you been out and about looking at trees that are available? One of the businesses in La Pine has a large assortment of trees for sale. The problem is that only 5 varieties are suited to our area.The other 9 varieties that are being offered will NOT winter here. A lot of time and money goes into planting. You want to make sure that what you are planting is a good choice for our area. Never believe that just because a business is selling a plant, tree or shrub that it is hardy enough for our area. Know what varieties work here and then amend your soil, plant and enjoy. Even if the price is cheap, it takes just as much time and soil amendment to plant a hardy plant as it does to plant one that is destined for failure.
3/25/08 - Snow Mold in the Lawn
I'm starting to get questions about winter lawn damage and thought I would address snow mold problems that you may be seeing.
Do you have bare spots in your lawn with a white or cream colored webbing over parts of the area? Is the affected area where the snow laid on the lawn the longest, such as the north side of the house or along a walk way?
As the snow starts to melt many of you are going to see that it is being replace by a mold growing on the lawn. This condition is probably pink snow mold, Microdochium nivale, and affects rye grasses and blue grasses that have been under snow for the past months.
One thing to remember is that spores of snow mold are always in the turf. As with all fungi, it needs the proper environment in which to grow, which in this case is the cool, humid environment that takes place under the snow cover.
A few simple steps can be performed to minimize snow mold damage to the turf. Once the lawn has started to dry out, take a leaf rake and rake the affected area to get it to stand up, this will help it to dry out faster. Caution: don't rake when the turf is real wet, this could cause more damage.
Next, apply a fertilizer that reads 21-7-14 or similar.
If the affected area is real bad I would suggest that you also apply a granular fungicide at the same time you apply your fertilizer.
3/23/08 - Time to Clean Bird Feeders
I can honestly feel that spring is on the way. I know, according to the calendar it is here, but I don't think they included our area when they set the date. We are still on cold day hours by opening at 10 and closing at 4. It takes awhile for the frost to disperse and it cools down quickly in the afternoon. Give it another week or so and we will be open 7 days a week from 9-5. I'm climatizing trees, shrubs and hundreds of perennials for your planting. Of course our pansies are just thriving with the cool weather. The blooms are just beautiful again this year. Rhubarb is ready to be planted if you can dig a hole. I have a few bare root Canada Red Chokecherry trees left for $32 each. There again, if you can dig a hole you can plant these trees.
While we are waiting for the ground to thaw and the snow to melt, you can be turning your attention to our fine feathered friends that we encourage to our gardens. I'm already seeing a few robins perching on my crabapple trees, so this surely means spring is here (almost).
Information provided by the Oregon Department of Fish and Wildlife tells us that each year in Oregon, songbirds contract deadly bacteria and viruses like salmonellosis, E. coli and avian pox from improperly maintained bird feeders. Regularly cleaning feeders and feeding areas will keep songbirds healthy. Be sure to wear rubber gloves when handling bird feeders or nest boxes and wash your hands afterwards.
You want to clean unoccupied nesting boxes now, as nesting season begins next month.
Replace food in bird feeders every two weeks or more often if you notice that seeds are moldy.
Limit the amount of food you provide in feeders to what the birds can eat in a day or two to reduce the amount of organic matter that could harbor disease.
Provide fresh, dry seed that hasn't molded. A fungal disease called aspergillosis grows on damp feed and can create lung infections if inhaled by birds.
Clean up old food and spent seed hulls around feeders, a practice that should also keep unwanted pests like rats and raccoons away from feeders.
Dispose of old seed in the garbage, not in the compost pile.
Concentrating birds increases the risk for disease. Disperse birds by spreading small amounts of seed over a large area in the sun, varying the location of seeds or using several feeders instead of one.
Looking forward to seeing you soon in the nursery.
L & S Gardens
"28 Years in Business and Still Growing"
linda@lsgardens.com
541-536-2049