In the Garden | Upcoming Events | Books By Linda | Recipes
Bark, Compost & Fill Dirt | Garden Tips | About Linda | Contact
Give us a call all year to have bulk products loaded or delivered.
2012 Gardening Tips
Click here to see the archives of gardening tips that dates back to 2007. See years of helpful gardening advice for our cold climate gardeners.
3/8/12 - Is it Spring Yet?
3/26/12 - Gardens are Coming Alive!
3/28/12 - Wave Petunia vs. Supertunia
3/30/12 - Bare Root Trees and Shrubs
4/10/12 - April Garden Chores
4/16/12 - Rain Gutter Gardening
5/12/12 - Read Those Labels on Garden Products
5/15/12 - Some Annuals Hardier Than Others
6/18/12 - Pine Rust Gall
9/20/12 - Why Do Leaves Change Color in the Fall?
10/29/12 - Rake Those Aspen Leaves Now
12/2/12 - 'Tis the Season for Poinsettias
"We can't tell you how much we've enjoyed our covered raised beds that my
husband constructed after taking the workshop at your nursery a couple of
years ago.  Our lettuce and s"pinach are up and carrots have even sent up
their first little green 'hairs.'"
Karen
Sisters, Oregon
Remember what I always say "Don't Rush the Season".
We are going to get more cold and snowy weather. But there are a few things you can be doing while waiting for a true spring.
Trim broken or dead branches from trees.
Clean those bird feeders and nesting boxes. Company is coming so you want to have a clean home for your favorite birds.
Attend my Cold Climate Gardening class on Saturday, March 17 from 10 to 12 at the Community Park building on Finley Butte Rd. here in La Pine. Sign up by calling La Pine Park and Recreation at 541-536-2223, cost is $10.
"A word to the wise" - I have been out and about visiting box stores and other places that carry plants, trees and shrubs. I have to tell you, plants are being sold that are NOT suitable for our area. Remember what I have always said "just because a business sells a plant, tree or shrub does NOT mean it will grow here.
I spotted Red Haven peach trees and Fugi apple trees for sale right here in La Pine.
You do NOT want to buy bare root roses and other bare root plants that are being sold inside a building and are putting out leaves. You take them home and plant them, the tender leaves are going to freeze. Anything you purchase right now should be dormant (no leaves).
We will be doing a soft opening on Saturday March 17 from 10-4 - not much for sale right now. And then we will go into our Spring Hours Tuesday through Saturday from 10-4. Once spring really gets here we will be open 7 days a week.
Questions? call me or send me an e-mail at linda@lsgardens.com.
3/26/12 - Gardens are Coming Alive!
I took a stroll around my gardens this morning and was surprised to see some of my perennials and my lawn coming to life. Since they are coming out of winter dormancy it is now time to think about some shores that need to be done.
• Get your lawn and flower beds raked.
• For lawns apply a 21-7-14 fertilizer
• For flower beds apply a 10-20-20 fertilizer
When in doubt apply either a 12-12-12 or a 16-16-16.
• Time to get that garden equipment tuned up or repaired. Go into Peak Performance located on highway 97 in La Pine and ask Mark for your 15% off L & S Gardens discount on any repairs or tune up. Think about that 4 wheeler you will be using this summer, maybe it needs a tune up also. This discount is good through April 30, 2012.
• Pansies will be ready in another couple of weeks.
• I will be offering some bare root specials end of this week so stay tuned.
3/28/12 - Wave Petunia vs. Supertunia
I get comments every season about the difference in petunias and why so many names for the same plant. As with any plant the more growers, the more names will be put on a plant.
The Wave Petunias have several varieties with different growth characteristics. The "Original Wave" and "Double Wave" are low growing and spreading varieties that make excellent ground covers.
The "Shock Wave" variety is known for displaying bold colors. The "Easy Wave" spreads like the original wave but is a little taller. The "Tidal Wave" is an upright variety that grows up to 22 inches high.
Most of the "Supertunias" are only 8 to 10 inches high, but can trail up to 2 to 3 feet long. There are very few varieties that can reach 24 inches tall and a cascading habit, reaching 24 inches.
All varieties need four to six hours of sunlight.
Wave petunias can be grown from seed (which is still quite expensive and hard to find except from a commercial aspect). The Supertunias are vegetatively propagated (grown from cuttings) and cannot be grown from seeds. Neither petunia plant is frost tolerant.
Neither the Supertunia nor the wave petunia requires deadheading (or pinching back old flowers) to produce new flowers. Due to the vigorous growth of both petunia types, they need to be given plenty of water. I recommend that the Supertunias receive liquid fertilizer once a week and the Wave Petunias could go every other week.
3/30/12 - Bare Root Trees and Shrubs
If you can dig a hole you can plant!
We have finished our potting and came up with some trees and shrubs that have roots too big for our pots. So we are passing the savings on to you by offering some varieties bare root. This means that they are NOT in pots but ready to go in the ground. What we have available in bare root are the following:

Shrubs
Canada Red Chokecherry shrubs $17.00
Vine Maple (needs protected area) $10.00
Autumn Brilliance shrub $11.00
Ludwig Spath Lilac (my favorite deep purple, late bloomer) $19.00
Dart's Golden Ninebark $12.00

Trees
Flame Maple $35.00
Crimson Plum $30.00
Paper Birch $30.00
Golden Raindrops Crabapple $33.00
Canada Red Chokecherry $44.00
Patmore Ash $41.00
Dolgo Crabapple $32.00
Prairie Cascade Willow $30.00
Sargent Crabapple $32.00
Paul's Scarlet Hawthorne $30.00
Royal Raindrops Crabapple $33.00
Sugar Tyme Crabapple $24

Beautiful trees - go on line to find out about the ones you are interested in. Please come into the nursery to check these out.
Tomorrow I will be setting out our hardy pansies !!!
What is a gardener to do when it is still a bit too cool to get much planting done?
Get those lawns raked up and then run the mower over the lawn. I know many of you are saying 'but there isn't anything to mow". You would be surprised at how much better it will look getting that bit of dry grass off the top of the lawn.


Fertilize the lawn using a 21-7-14 fertilizer. A 40# bag will cover approximately 3200 sq. ft.


Your perennial beds and bulbs are starting to come to life. They need to be fed. Apply a 10-20-20 fertilizer around all of your plants that bloom.


The birds will be returning and they need to have a clean feeder or bird house. Let's get those cleaned up and ready for the new arrivals.


Sharpen your shovels, hoes, and hand tools.


If your mower or other lawn equipment needs a turn up then now is the time to "Get R Done." You can take your equipment to Mark at Peak Performance and tell him "Linda sent you" and get a 15% off equipment rentals and service.
Our pansies are looking lovely and can be planted out now. You do not have to worry about cold weather with our HARDY pansies.
Be sure to let me know if you have any gardening questions. Either e-mail me or call.
We have gone into our full hours of operation. Monday through Saturday 9-5 and Sunday 10-4. We have lots of compost, bark, river rock, aggregate and fill dirt.
4/16/12 - Rain Gutter Gardening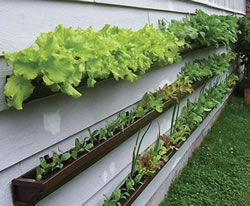 I saw this great idea in a publication called Garden Gate. If you are limited on garden space and have a sunny wall on the side of a garage or outbuilding, then this is for you. Not only fun but FUNKY !
Check out your local Habit for Humanity ReStore and see if they have used rain gutters. Take a look at the attached picture and let me know what you think. I think it would be perfect for lettuce and other leafy crops.
5/12/12/ - Read Those Labels on Garden Products
You have heard me say it before but I can not emphasize enough that you need to be reading the labels on the products you purchase for your lawn.
Don't get caught up in the advertising hype. You see it on TV, every channel you turn to says Round-up is the BEST weed killer on the market. "Great" you say to yourself, "that is just what I need". And the ad was so timely, you have weeds encroaching on your landscape, so off to the store you go.
Stop right there. How many of you are actually reading the label on that product you have in your hand?
There are other products on the market for killing weeds and they are have the price with more killing power. Round-up had a two hundred and sixty five million dollar advertising budget last year and is expected to increase that amount this year. If you figure that is just in the United States, that is a lot of money for a four month time frame.
Green light puts out a product called Com-Pleet that is 41% glyphosate where as Round-up is only 18%, both in a 32 oz. container. Green Light Com-Pleet is almost half the price of Round-Up. You may find some Round-Up containers that say "new and improved" and may have a bit more of the killing component.
Also, read the labels on the grass seed you are purchasing. I was out and about yesterday and wanted to take the sales clerk aside and explain to her that what she was selling was a disservice to her customers, but I refrained and decided to mind my own business. But this is what I found. A large bag of "Landscapers Mix" contained 53% Gulf annual rye grass seed. Now think about it, annual grass seed is NOT going to come back next year. On another shelf I found smaller bags of another blend. One of them read 38% annual grass and another read 58% annual grass seed.
Please read those labels BEFORE you purchase - you will be a much happier gardener!
5/15/12 - Some Annuals Hardier Than Others
We are almost there - hanging baskets, color bowls, blooming pots for the patio and let's not forget the annuals planted into your garden. Let's stop and think about this a minute.
First of all, we are going to get some more freezing nights - that is a fact. I usually suggest you set out your annuals the first of June. If you plant earlier expect to cover them on those freezing nights.
Second - there are annuals that are hardier than others. I DO NOT sell marigolds in the nursery - way too tender for us. Love that blue lobelia that you see in so many pots? That is another annual that is tender. Geraniums - kiss them good bye if you forget to cover on cold nights.
Work some perennials into your baskets. Herbs are great and you can eat the arrangement all summer long.
My very good friend Amber has planted up some beautiful baskets if you don't want to plant your own - come take a look at her lovelies.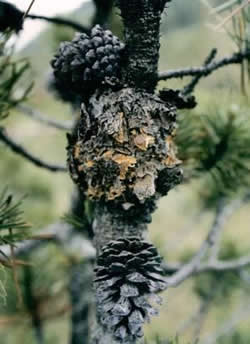 The Pine Rust Gall is a common disease in Lodgepole and Mugo Pines. Pine Rust Gall is caused by a rust fungus. The rust fungus spreads by means of microscopic spores which are dispersed on air currants. It does not immediately kill tree tissue but as the gall grows it will become larger than the branch it has infested. The branch or even the trunk of the tree where the gall is located will die from the gall outward.
You can cut the branch off behind the gall. There is no cure for this spore fungus.
9/20/12 - Why Do Leaves Change Color in the Fall?
We all enjoy the color of autumn leaves. Problem with the area that we live in is that when the summer weather takes a nose dive over night to 20 degrees in the garden like I had last week, it changes things dramatically. Leaves need a gradual change from summer to fall in order for the colors to emerge. When the temperature drops quickly there is no time for color change. Within a matter of three days my leaves went from a beautiful green to yellow..
Leaves are natures food factories. Plants take water from the ground through roots. They take a gas called carbon dioxide from the air. Plants use sunlight to turn water and carbon dioxide into glucose. Glucose is a kind of sugar. Plants use glucose as food for energy and as a building block for growing. The way plants turn water and carbon dioxide into sugar is called photosynthesis. That means "putting together with light." A chemical called chlorophyll helps make photosynthesis happen. Chlorophyll is what gives plants that green color. As summer ends and autumn comes, the days get shorter and shorter. This is how the trees "know" to begin getting ready for winter. During winter there is not enough light or water for photosynthesis. The trees will rest, and live off the food they stored during the summer. They begin to shut down their food making factories. The green disappears from the leaves. As the bright green fades away, we begin to see yellow and orange colors. Small amounts of these colors have been in the leaves all along. In some trees like the maples, sunlight and cool nights of autumn cause the leaves to turn this glucose into a red color. The brown color of trees like the oaks is made from wastes left in the leaves. Now you know more than you ever wanted to know about leaves turning red.
10/29/12 - Rake Those Aspen Leaves Now
You think you are done gardening for the winter – but wait! Now that the leaves have fallen on your Aspen trees it is time to rake up the fallen debris. Aspens are susceptible to many problems in the landscape. One of those problems is aspen leaf spot, a disease caused by fungus. Aspen leaf spot, or Marssonina leaf spot, is common on aspen trees in the late summer and autumn. A previous spring of warm, rainy conditions creates the perfect environment for the disease to spread. When affected by the disease, black spots develop on aspen leaves. Leaves affected with the disease will be scattered randomly throughout the tree and spots will appear randomly on the leaves. The spots are dark brown to black circles containing more rings, looking almost like a bulls-eye. Sometimes the edges of the spots may appear irregular or feathery. To manage aspen leaf spot, rake and burn fallen leaves in the autumn to prevent the spread of the fungus in the spring. Black Spot is a spore fungus and will travel from tree to tree in the spring and summer.
12/02/12 - Tis the Season for Poinsettias
Have you purchased your Poinsettia yet? If not, there are a few things to know before you buy. The length of time your poinsettia will give you pleasure in your home is dependent on three things.
1. The maturity of the plant
2. When you buy it
3. How you treat the plant
With care poinsettias will retain their beauty for weeks and several varieties for months.
Make your poinsettia selection BEFORE leaving the store make sure the plants is wrapped properly. Exposure to low, cold temperatures, even for a few minutes, will damage the brackets and leaves. Unwrap your poinsettia carefully and place in indirect light. Six hours of light is ideal. Keep your plant away from cold windows. Keep your poinsettia away from warm or cold drafts from heaters, air registers or open doors and windows. Ideally poinsettias require daytime temperatures of 60 to 70 degrees and night time temperatures of around 55 degrees. High temperatures will shorten the plants life. Check the soil daily. If you are going to leave the foil around the plant, BE SURE to poke holes in the bottom of the foil so that the water will drain into a saucer. Water when soil is dry. Allow water to drain into the saucer and then discard the excess water. Wilted plants will drop brackets sooner.
With good care your poinsettia should last 6 to 8 weeks in your home.

REMINDER - Do you have a Gardener on your Christmas List - we sell Gift Certificates, just give us a call (541) 536-2049.
Garden Updates 2012
L & S Gardens
"28 Years in Business and Still Growing"
linda@lsgardens.com