In the Garden | Upcoming Events | Rhubarb Festival | Books By Linda | Recipes
Bark, Compost & Fill Dirt | Garden Tips | About Linda | Contact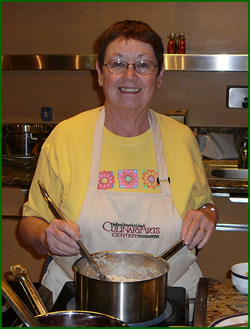 Zucchini Relish
"Tis the Season for Zucchini"
10 cups grated zucchini, skin left on
4 cups whit onion, chopped fine
2 large green bell peppers, chopped
1/2 cup jalapeno peppers, chopped
Mix together in a large bowl. Sprinkle 3 tablespoons coarse salt over mixture. Refrigerate and let stand overnight.
Remove from refrigerator and rinse twice with cold water, drain.
In a large kettle add:
4 cups sugar
2 1/2 cups white vinegar
1 1/2 teaspoon celery seed
1 teaspoon black pepper
1/2 teaspoon nutmeg
1 teaspoon turmeric
Bring to a boil, add zucchini mixture and simmer for 20 minutes.
Pour into hot pint jars, add lids, process in a hot water bath for 15 minutes. Makes 5 pints.

Quick and Easy Herb Breads
At one time I thought that only the gourmet cooks used herbs in their cooking and baking, and then one day while experimenting with a new pickle recipe I realized that I had been cooking with herbs for years. Dill in my pickles, oregano in my spaghetti sauce and fresh basil in my salads.
With so many of us trying to eat healthy and cut back on our salt intake, we are finding that some foods are a bit bland without the addition of a healthy substitute.
Once you start using herbs in your daily cooking you will have opened up a whole new world of flavors. To get you started on your use of herbs I'm sharing some of my Quick and Easy Herb Bread recipes. Just by changing the type of herb used your bread will take on a completely different flavor.
Basil Beer Batter Bread

You won't find an easier recipe for bread than this one. This is fabulous bread for making toast. Experiment with the type of beer used. A dark beer will give you a stronger flavor, so I would suggest you stick with a mild flavored beer to start with.
3 cups self-rising flour
3 tablespoons sugar
1 tablespoon dried basil
1 (12 oz.) bottle or can of beer
½ cup butter or margarine

Preheat oven to 350F. In a mixing bowl combine flour, sugar, and beer. Stir to blend. Pour into a greased 8 ½ x 4 ½ loaf pan. Melt butter and pour half over dough, set the remaining butter aside. Bake for 20 minutes. Pour remaining butter over loaf. Continue to bake another 40 minutes. Makes 1 loaf.
Herb Corn Bread

1 cup flour
1 teaspoon salt
2 ½ teaspoons baking powder
4 tablespoons sugar
1 teaspoon dried thyme
½ teaspoon paprika
¾ cup yellow corn meal
1 egg
1 cup milk
4 tablespoons shortening, melted

Preheat oven to 400F. Stir dry ingredients together. Add egg and milk, stir, and add shortening. Pour into a well greased 9 inch square baking dish. Bake 20 to 30 minutes or until top is just barely golden brown.
Quick Herb Biscuits

I have to admit that I kind of cheat on this one by using prepackaged biscuit dough.
4 tablespoons butter or margarine
2 teaspoons onion, finely chopped, fresh or dried
1 teaspoon dried dill weed
½ teaspoon dried, chopped parsley
1 (10 oz.) tube large canned refrigerator biscuits

Preheat oven to 400F. Combine butter, onion, dill weed, and parsley in a small sauce pan. Melt over low heat. Cool slightly. Dip each biscuit into herb and butter mixture, turn over and coat the other side. Place in an un-greased 9 inch square baking dish. Bake 8 to 10 minutes.
Easy Pumkin Spice Cookies
Thought you might like to have a quick and EASY cookie recipe to serve over the Thanksgiving holidays.
 
Easy Pumpkin Spice Cookies
 
2 boxes Spice cake mix
1 (29 ounce) can solid pack pumpkin
1/2 package chocolate chips or 1 cup raisins and 1 cup walnuts
 
Preheat oven to 350 degrees.
Grease cookie sheets.
Mix the cake mixes and canned pumpkin until blended; mix in chocolate chips or raising and walnuts.
Drop by rounded spoonfuls onto cookie sheet.
Bake for 13 to 15 minutes.
Cool for 5 minutes before removing to a wire rack to cool completely.
 

Wine Cake
Do you have a special dinner that you have been invited to and you are asked to bring the dessert? This wine cake is delicious and oh-so-easy to make.
1 yellow cake mix
1 small package vanilla instant pudding
3/4 cup cooking wine
3/4 cup vegetable oil
4 eggs
1 teaspoon mace

Preheat oven to 375 degrees F.
Grease a bundt pan.
Put all ingredients in a large mixing bowl and mix well.
Pour into bundt pan.
Bake for 45 to 50 minutes or until a knife inserted into the center pulls out clean.
Turn cake onto a cake plate and dust with powdered sugar.
"Happy New Year! I made the Wine Cake recipe for our family on New Year's Day and everyone loved it. It was very good. I used white cooking wine but next time may try the sherry cooking wine. Thanks for the recipe!"
Roxann Summers
"Linda, thank you so much for the recipes you send to all of us. I loved the cake mix cookie one and sent it to my daughter and my 6 year old grand daughter loves to try to cook. This will be a great one for her to try."
 
 
Anne Core
Broccoli Casserole
Want to add a very tasty casserole to your Thanksgiving Dinner other than Green Bean Casserole? Years ago my daughter-in-law brought a Broccoli Casserole to our Christmas Dinner and it has been requested for every get together since. I know, many of you are thinking - Broccoli - YUK. Not so! This casserole is wonderful, but not low in calories. Give it a try and let me know what you think.
Pre-heat over to 325 degrees. Grease a 9" x 13" baking pan.
Fresh Broccoli - 2 to 3 pounds broken into florets
1 can Cream of Chicken Soup - put this in a pan and warm slightly with a little bit of milk
1/2 cup mayonnaise
1 and 1/2 cup grated cheddar cheese
2 eggs, beaten
1/2 teaspoon salt
1/2 teaspoon pepper
Ritz Crackers, crushed to equal 2 cups
Layer in order of ingredients listed. Bake for 40 minutes.
"I am sorry I have not written sooner. I enjoy your e-mails, I have gotten great advice from you. Also, I just printed out your daughter-in-laws recipe for broccoli casserole. It sounds delicious. I can't thank you enough for all the great advice in person and thru you mail. Continue with relish! "
Judie Hokanson
So-Easy Cookies
This is one of the easiest cookie recipes ever. I found this in a cookbook called 101 Recipes to make from a Cake Mix. You can find this cookbook at the Hen's Tooth in the Bend River Mall in Bend or at your favorite book store.
The reason I like this recipe is because most of the ingredients are already in the cake mix.
Pre-heat oven to 350 degrees
1 packaged cake mix - any flavor
2 large eggs
1/2 cup vegetable oil

Mix ingredients together. Roll into balls and place on an ungreased baking sheet. Flatten with a fork or use your hand. Bake for 8 to 10 minutes.
Variations I have used:
White cake mix, crushed candy canes, coconut
Chocolate cake mix. mini chocolate chips, crushed walnuts
Spice cake mix, raisins
Have fun and try different combinations.
"Thanks Linda! The cookies are great. I used pecans and raisins with a spice cake and topped them off with cream cheese frosting with a hint of maple syrup mixed in. I also made red velvet cookies with cream cheese frosting. How can it get any easier? Have a very merry Christmas! "
Bryon Bessent
Rhubarb Crisp
1 cup light brown sugar, firmly packed
1 cup all-purpose flour
¾ cup quick cooking rolled oats
½ cup butter, melted
1 teaspoon cinnamon
4 cups Rhubarb, cut into 1 inch pieces
1 cup granulated sugar
2 tablespoons cornstarch
1 cup water
1 teaspoon vanilla
 
Preheat oven to 350°F.
In a large mixing bowl, combine brown sugar, flour, oats, butter and cinnamon; mix together until crumbly. Press half of the brown sugar and oats mixture into a buttered 8"x 8" baking dish, evenly spread rhubarb over crumb mixture.
In a saucepan, combine 1 cup granulated sugar, cornstarch, water and vanilla. Cook together until clear, pour over rhubarb.
Top rhubarb with remaining crumb mixture.
Bake 45 to 55 minutes.
 
Recipe from Linda Stephenson's Rhubarb Cookbook.
Rhubarb Salsa
Rhubarb is ready for harvest and here is a great recipe that will be the
talk of your next BBQ. Serve as a dip with corn chips or over grilled
meat – YUM – YUM !
1 cup granulated sugar
½ cup water
2 tablespoons finely shredded orange peel
6 cups Rhubarb, cut into ½ inch pieces
½ cup green bell pepper, diced
¼ cup sweet onion, finely chopped
⅓ cup red onion, finely chopped
1 jalapeno pepper, seeded and minced
2 tablespoons honey
2 tablespoons lemon juice
1 teaspoon fresh ginger, grated

In a medium, non-stick sauce pan, combine sugar, water and orange
peel. Bring to a boil.
Add chopped Rhubarb and reduce heat to medium. Simmer gently
until the Rhubarb is tender, about 10 minutes.
Remove from the heat and allow to cool to room temperature.
When cool, add remaining ingredients. Mix well. Serve chilled or at
room temperature.
Recipe from Linda Stephenson's Rhubarb Cookbook.

L & S Gardens
"28 Years in Business and Still Growing"
linda@lsgardens.com
541-536-2049